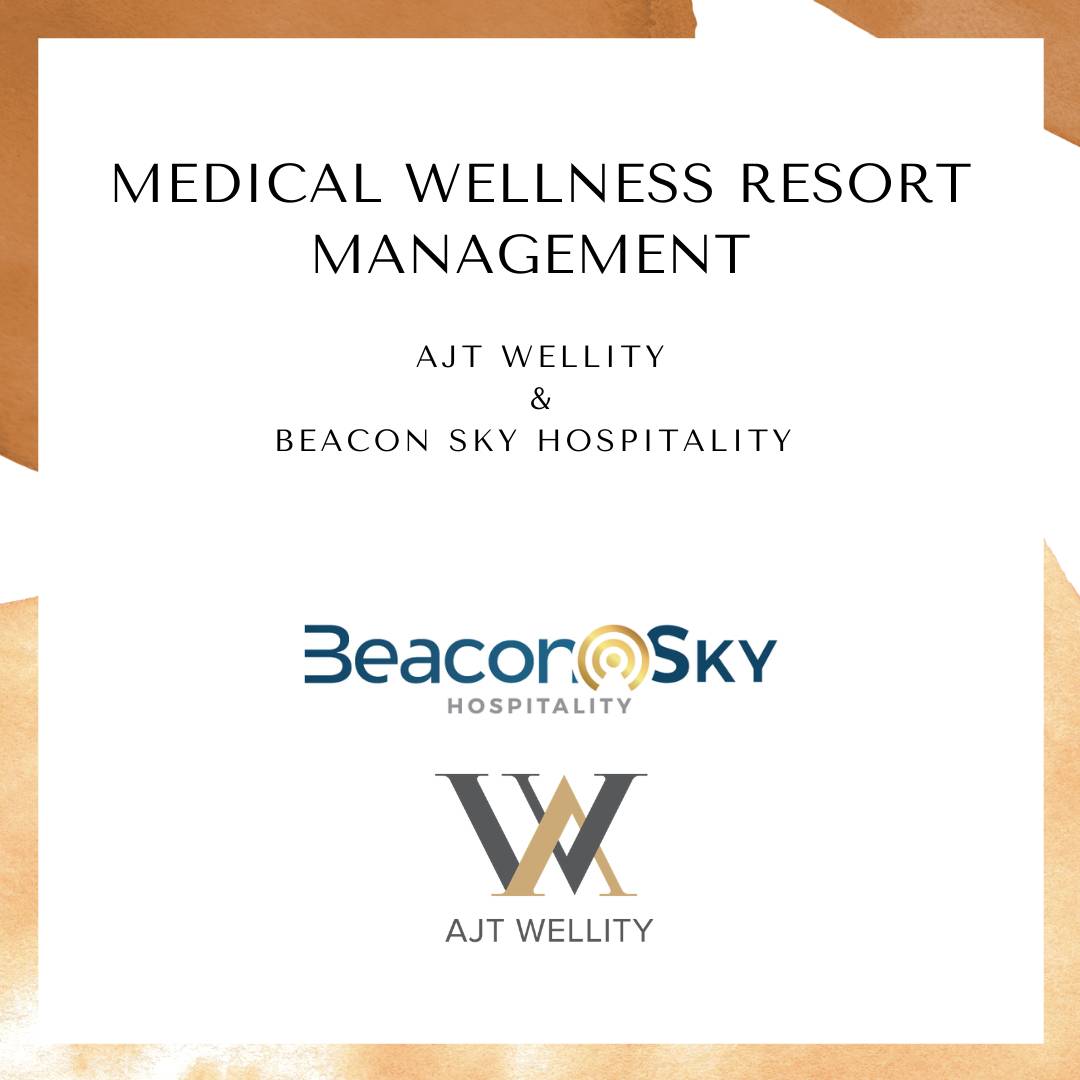 "AJT Wellity Asia Co., Ltd." (AJT) and "Beacon Sky Hospitality Co., Ltd." (BSH) have joined forces to offer "Medical Wellness Resort" Management.
This collaboration under one umbrella, offers overall management for Medical Wellness Resorts in the South East Asia region.
AJT provides the medical wellness management for the hotel/resort, including the roll out, execution, marketing and protocols of programs and treatments. The management of doctors, therapists and consultants will also be managed by AJT.
BSH provides the management of the overall functioning of the hotel/resort part of the business, including the operations, admin, HR, and maintenance/engineering.
The joint management engages with an asset owner in a management agreement of a medical wellness resort based on fees of revenues and operating profits.
About AJT and BSH
Anthony Jude Tan, founder of AJT Holdings and Visionary of AJT Wellity has over 30 years of medical, wellness and hospitality experience in Thailand, Singapore and across Asia.  His current portfolio includes up to 10 wellness and health care facilities across China, Malaysia, Thailand, Cambodia, Middle East, and Vietnam. These collaborations have resulted in the development of a Micro Medical Center concept where patients can consult with quality specialist doctors on alternative and functional medicine methods for preventive and regenerative care, verified wellness therapies, in addition to traditional health care checkups and procedures. AJT has several strategic partnerships with international clinics and hospitals including LIVV Natural Health, Millennium Health Centers from the USA; and ongoing relationships with all large international hospitals in Thailand.
"Beacon Sky Hospitality Co. Ltd", is hospitality consultant and advisory company with offices in Bangkok and Phuket, Thailand. It operates a subsidiary "Sky Hotel Management", which is an Independent Hotel Management Company and acts as Third party operator, "TPO" for hospitality owners. The company has been founded by a team of highly experienced hotel management professionals, each of which have over 30 years hotel management and business development experience in Thailand and Asia, including the successful launching of new brands and the roll out of hotel platform developments.
https://thewellity.com/wp-content/uploads/2021/01/AJT-BSH-Medical-Wellness-Resort-Management.jpg
1080
1080
Alexsondra
https://thewellity.com/wp-content/uploads/2018/03/logo-wellity.png
Alexsondra
2021-01-20 07:49:26
2021-01-20 07:49:26
Medical Wellness Resort Management